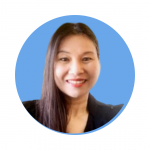 Elizabeth Nguyen
DRE 01988371
A little bit about me...
Meet Elizabeth Nguyen, a skilled and dedicated real estate agent with expertise in both mortgage lending and selling homes. Fluent in both Vietnamese and English, Elizabeth brings a unique cultural perspective to her work, allowing her to connect with a diverse range of clients in the Orange County area.
With over 10 years of experience in the industry, Elizabeth has a deep understanding of the local real estate market and is committed to helping her clients achieve their goals, whether they are buying or selling a home. Her attention to detail, strong negotiation skills, and excellent customer service have earned her a reputation as a trusted and reliable agent.
As a licensed mortgage loan originator, Elizabeth has an in-depth knowledge of the mortgage lending process, allowing her to guide her clients through the complexities of obtaining financing. She is passionate about helping her clients find the best mortgage products to suit their individual needs and is dedicated to providing personalized service throughout the entire home buying process.
If you are looking for a real estate agent who is knowledgeable, trustworthy, and committed to your success, look no further than Elizabeth Nguyen. Contact her today to learn more about how she can help you achieve your real estate goals.